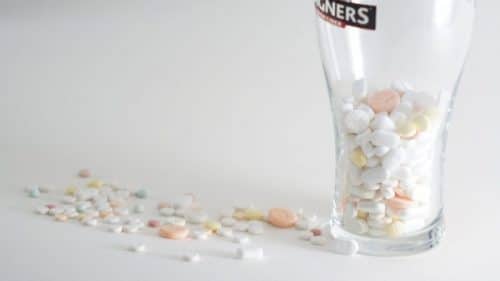 With the dangerous drugs like fentanyl recently flooding the news due to the opioid crisis in America, there seems to be more and more to worry about. DHS Secretary Kristjen Nielsen recently said that Immigration Customs and Enforcement (ICE) captured enough fentanyl last year to kill every American twice over. Seemingly countless other stories of drug busts of fentanyl find massive and deadly amounts. But one substance, carfentanil, that is less known than fentanyl is far more deadly.
What is Carfentanil?
Carfentanil is a analogue of the synthetic opioid analgesic fentanyl that is used as an adulterant for drugs like cocaine or heroin. Considered one the the most dangerous drugs detected by the Centers for Disease Control, carfentanil is contributing to an increased amount of overdose deaths in America. In 2016, Carfentanil was linked to 420 deaths and nearly double that in 2017, with 815 deaths reported according to CDC reporting.
5 Attributes of Carfentanil
White powdery substance resembling cocaine or heroin   

10,000 times more potent than morphine and 100 times stronger than fentanyl

Synthetic opioid created in 1974 as a large animal tranquilizer used on elephants and giraffes

Can be lethal at just .02 milligrams (some cases lethal to the touch)  

May not be able to be neutralized by the anti-overdose drugs Narcan or Naloxone  
Carfentanil produces symptoms similar to opioid toxicity and overdose including:
Pinpoint pupils

Shallow breathing

Dizziness

Lethargy

Loss of Consciousness

Nausea/Vomiting

Weak pulse

Cold and clammy skin

Weak pulse

Heart failure
Problem Areas
Law enforcement is concerned that as the popularity of carfentanil rises, so will the death toll. Most of the synthetic opioid finds its way from illegal Chinese or Mexican laboratories through smuggling channels across the Mexican border. The drug can also enter the country via the mail or purchases made fairly easily on the dark web.
The most dangerous element of carfentanil is the drug users inability to know it is in the drug they are using. Carfentanil has found its way into more and more states causing overdoses to unsuspecting users. Recently, Arizona reported its first carfentanil related death with an unnamed 21-year-old male who was found dead in a car outside a Phoenix restaurant.
"These pills are crazy dangerous because the user has no idea how lethal they are, there's no quality control here. It's nothing more than Russian roulette." – Rusty Payne, Spokesman with the U.S. Drug Enforcement Agency (DEA)
States most affected by carfentanil overdoses included Ohio, Kentucky, Wisconsin, West Virginia, New Mexico, Rhode Island, Oklahoma, Maine and Massachusetts, according to the CDC. New Hampshire reports the highest per capita deaths related to fentanyl and carfentanil.  
Next Steps
The choice to use illicit or illegal drugs is a danger all its own. Add factors such as those drugs being cut with adulterants like synthetics like fentanyl and carfentanil makes addiction deadly. If you or a loved one struggle with addiction, help is available. Rock Recovery Center in West Palm Beach, Florida can provide advice for next steps. Call our 24-hour helpline or chat live with us now.