What people learn during addiction treatment effects them for the rest of their lives. Through treatment, many people learn coping skills and healthy habits that help them through stressful and triggering situations years after treatment is over.
While some treatment centers will put their focus entirely on traditional addiction treatment methods, others embrace the idea that a full recovery covers impacts every area of health. That's why some centers put some of their focus on things like eating healthy during drug rehab programs.
Why You Should Worry About Eating Healthy At Drug Rehab
Addiction treatment can be daunting. For that reason, it can be easy to forgo eating healthy at drug rehab. Food can be comforting and provide you with some support when treatment gets stressful. Turning to food for comfort, however, can be costly to your health.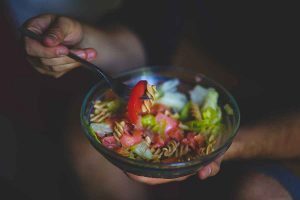 There are many foods that are manufactured to both taste good and give you a full feeling. Often, these foods are extremely unhealthy for you. Eating these types of foods for long periods of time can result in weight gain and problems with obesity, diabetes, high blood pressure, and other serious health problems. Although these things might not turn you back to substance abuse, they can still cause you severe health issues that could lead to an early death.

By learning about eating healthy at drug rehab, you're giving yourself a chance to live life free from many different substances that could cause you lasting harm. Along with that, you're building the framework necessary to living a full, healthy life.
The Benefits Of Eating Healthy At Drug Rehab
Eating healthy at drug rehab isn't just about building lasting habits though. During treatment, having a healthy diet will provide you with benefits that enrich your treatment experience.

What foods you put in your body will change the way you feel mentally, physically and emotionally. The more wholesome foods you eat, the better you're going to feel. While you're in treatment, those positive feelings can help you focus and give you the energy you need to go through more difficult treatment programs.
Rock Recovery Center Can Be The Health-Based Treatment Center You Need
At Rock Recovery Center, we prioritize teaching our clients about healthy habits during their addiction treatment program. Not only do we want them to understand the perks of maintaining a healthy diet, but we also go shopping with them, educate them on different foods, and teach them how to cook healthy meals that they will enjoy. Plus, our healthy eating programs are only part of the health-based programs we offer.

If you want to work with an addiction treatment center that focuses on your complete health, call Rock Recovery Center today at 888-322-7389.