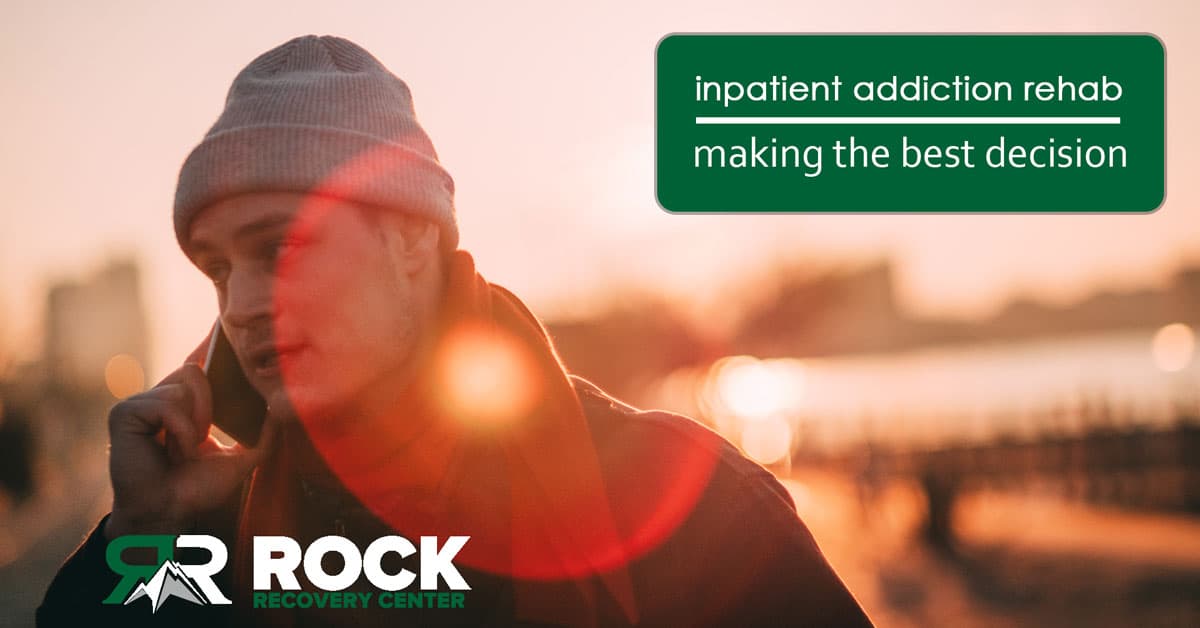 Substance abuse and drug addiction are complex issues and choosing the right inpatient addiction rehab is a big decision. For many, drug or alcohol addiction is a chronic struggle, and relapses occur even after long periods of sobriety. Some people might be able to break a cycle of addiction on their own, but many will fare much better after seeking treatment of some kind.
As no two people have identical addiction issues, addiction treatment approaches come in many forms. Successful treatment needs to address a number of issues that have been disrupted in the patient's life.
Determining if you need an Inpatient Addiction Rehab
Many factors will determine just what type of addiction treatment is sought, including:
The need for detox (medically assisted or otherwise).
The need for ongoing medical treatment, such as treatment of medical complications arising from drug overdose.
The need for skills training for reintegration into a healthier family, work or social environment that will promote sobriety.
The need for additional therapy to address any concurrent or dual diagnoses, such as major depressive disorder, anxiety, or bipolar disorder.
The need for a thorough plan of aftercare to reinforce the progress made throughout early treatment.
Read More: Medical Detox for Addiction
Inpatient Addiction Rehab Services
Those seeking inpatient addiction treatment typically receive both traditional and innovative treatment options including:
Thorough medical and psychological evaluation at the intake stage.
Detox services with possible medical assistance to help patients through a period of withdrawal.
Medical intervention, in some cases, to address the addiction itself, as well as any other medical or mental health concerns.
Dual diagnosis treatment for those who are suffering from more than one substance abuse disorder, behavioral addictions, or psychiatric conditions.
Private, safe living environment, free of the potential situational and environmental triggers that may have been reinforcing addiction.
Targeted group and individual therapy.
Nutritional counseling.
Holistic treatment from some specialized residential treatment centers.
Family therapy and skills training to make sure a patient has the most supportive environment possible when he or she leaves treatment.
Aftercare treatment options including sober living arrangements, scheduled monitoring, regular continued counseling, and participation in recovery groups and/or meetings.
Inpatient Addiction Rehab vs. Outpatient Treatment
Many different addiction treatment modalities can be utilized on an outpatient basis. For some people, this is a great start in addressing a substance abuse problem. However, a real advantage that residential rehab centers have lies in their ability to incorporate some or all of the different treatment components in a single setting.
Furthermore, a residential or inpatient rehab program is able to provide care and administer a specialized treatment plan in a structured environment, 24 hours a day. Patients in residential addiction treatment centers are able to dedicate their full energies to recovery for the prescribed treatment duration. Ongoing progress assessments and treatment adjustments can be made, including an extension of treatment duration, should it be warranted.
Learn More: Outpatient Addiction Treatment
The Cost of an Inpatient Addiction Rehab
Another factor to consider is the cost of each type of treatment. Inpatient, which can cost $200 to $900 per day, tends to be more expensive than outpatient, which can cost $100 to $500 per treatment session. The increase in cost accounts for the higher level of care provided by an inpatient program, as well as the housing, food, and amenities provided. In addition, longer inpatient programs will tend to have lower cost per day to make the overall price more affordable.
Fortunately, many inpatient addiction rehab centers accept different forms of health insurance. Insurance will often cover most, if not all of the costs associated with treatment.
Learn More: Insurance and Addiction Treatment
Questions to ask prior to entering an Inpatient Addiction Rehab
Is it appropriately licensed? Are there treatment center reviews available to the public?
Will my insurance coverage pay for treatment (in part or full)?
Does it provide 24-hour medical supervision with qualified medical professionals?
Are there extensive multi-faceted, specialty services?
Are there accommodations for distinct demographic variables (e.g. male or female only, adolescent and teen programs, LGBT, etc.)?
Does the staff respect each patient's individual needs?
Are private rooms available?
Is executive treatment available (access to cell phones and computers)?
Is it close to home? Is travel necessary or, in some cases, preferred?
Does it provide a safe treatment environment?
Seeking an Inpatient Addiction Rehab? Call us now!
[su_button url="tel:8883226195″ background="#efac2d" size="5″ center="yes" icon="icon: phone" text_shadow="0px 0px 0px #000000″ onclick="ga('send', 'event', 'Click-to-Call', 'Blog Button', 'Inpatient Addiction Rehab');" title="title"](888) 322-6195[/su_button]