The correlation between substance abuse, first responders, and veterans is prevalent due to the nature of their work. First responders—paramedics, emergency medical technicians (EMTs), and law enforcement officers—are responsible for being the first on the scene of an emergency. The traumatic experiences that first responders and veterans have faced can negatively impact their physical, emotional, and mental health overall. Many first responders and veterans will turn to drugs and alcohol to help cope with the emotional strain. At Rock Recovery Center, our first responder and veterans treatment program offers a continuum of care for all retired and active-duty service members (ADSMs) struggling with a drug or alcohol addiction.
Why Substance Abuse is Common in First Responders and Veterans
As a first responder or veteran, struggling with a drug or alcohol addiction might be considered a weakness. Many don't acknowledge their addiction for fear of the professional or personal consequences. Hiding your addiction from your loved ones and holding on to the fear and anxiety can often worsen the problem.
Veterans and first responders are expected to be courageous and emotionally resilient due to their occupation, and this expectation often flows over into their personal lives. This belief of needing to be a certain way on and off the job causes emotional damage to the individual. When the pressure and emotional stress begin to impact their personal lives, it can create relational, financial, physical, and mental health issues. Instead of seeking counseling or other mental health resources, many resort to drugs and alcohol.
Drugs and alcohol often become first responders' means of coping after a stressful day on the job. This habit can quickly become an addiction without the proper resources and treatment. Veterans that refuse mental health treatment are more prone to developing an alcohol use disorder (AUD) or substance use disorder (SUD). Attending treatment for drug and alcohol addiction is often viewed as a flaw, which is why many individuals—especially veterans and first responders—refuse to go.
At Rock Recovery Center, our drug and alcohol rehab program for first responders and veterans fixates on addiction treatment and prioritizes the individual's mental and emotional well-being. Rock Recovery provides individualized treatment for depression, anxiety, post-traumatic stress disorder (PTSD), bipolar disorder, and obsessive-compulsive disorder (OCD). Treatment for dual diagnosis, or co-occurring disorders, is offered to those battling a substance use disorder (SUD) and a mental health disorder.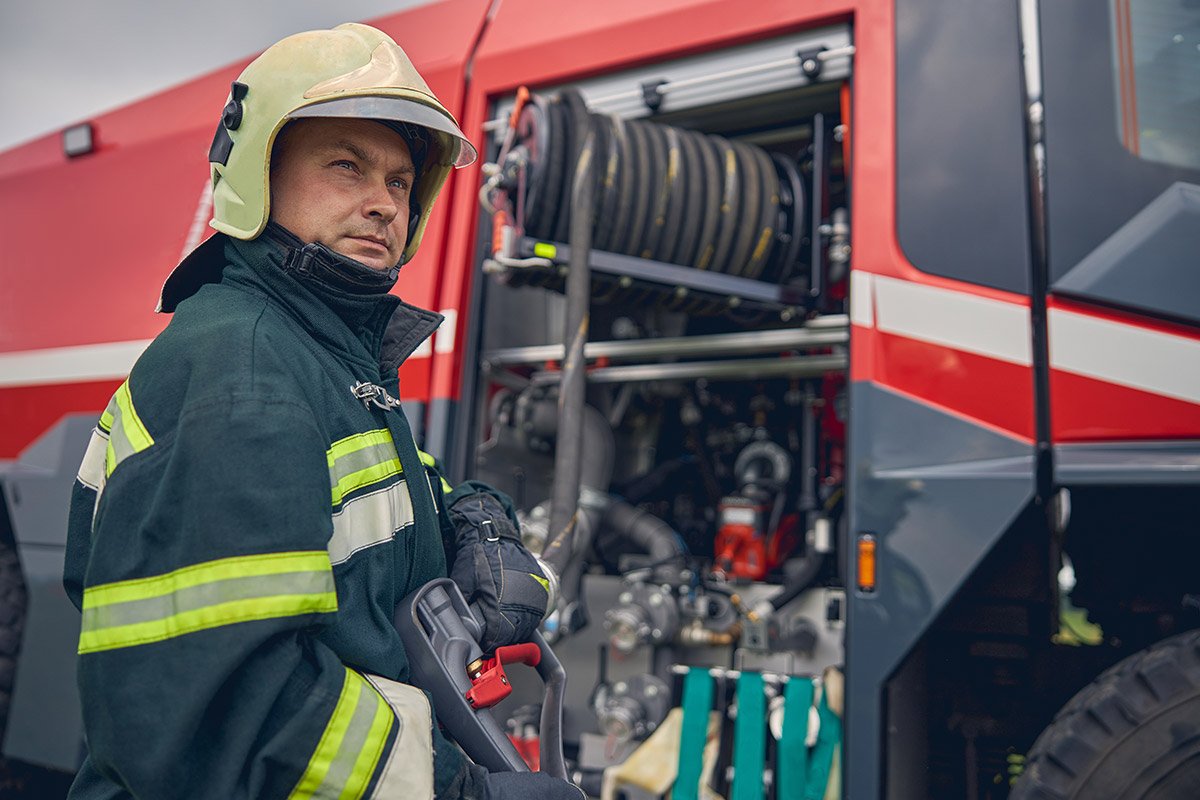 First responders face life-threatening situations daily, adding to the emotional trauma they bury. Many veterans and first responders store certain sounds, places, things, etc., in their brains associated with a traumatic event. Without the necessary treatment, it can be difficult to differentiate these sounds from similar stimuli that act as reminders of the memory.
Trauma Therapy for First Responders and Veterans
Trauma-focused therapy is integrated into our rehab programs to help understand the connection between a patient's emotional and behavioral responses and the traumatic experience. Our medical professionals walk each patient through new strategies for coping and skills for managing emotions associated with the event. Trauma therapy helps patients identify their triggers to facilitate healthier responses. Managing triggers in addiction treatment evokes a range of emotions, which is why we integrate psychotherapy into our program.
Psychotherapy is a form of talk therapy that allows patients to disclose how and why they're feeling a certain way. It's an opportunity to open up and connect with a mental health professional one-on-one without the judgment of others. Therapy teaches patients how to implement healthy coping methods as they develop an awareness of their emotions and responses to their trauma.
Eye Movement Desensitization and Reprocessing (EMDR) Therapy
Eye Movement Desensitization and Reprocessing (EMDR) therapy is a structured psychotherapy treatment that encourages patients to focus on disturbing emotions related to past, present, or future events. Holding on to disturbing memories or feelings will continue to hinder and control your future if you allow it to. EMDR helps the brain resume its natural healing process by concentrating on altering the thoughts, emotions, and behaviors culminating from traumatic experiences.
The eight phases of EMDR therapy consist of:
History-taking
Client preparation
Assessment
Desensitization
Installation
Body scan
Closure
Reevaluation
Each phase prepares and encourages the patient to process their emotions to convert the negative feelings associated with the targeted memory. EMDR utilizes the Adaptive Information Processing model to treat post-traumatic stress disorder (PTSD). Using EMDR therapy to treat PTSD begins by activating the traumatic memory and evaluating its memory components. During the desensitization phase, each patient practices controlled eye movements or other bilateral stimulations (BLS) to evaluate and alter emotions until the memory is no longer disturbing. This process will continue until the patient has resolved all negative emotions associated with the traumatic memory.
Rock Recovery Center in Palm Beach County offers drug and alcohol rehab for veterans and first responders seeking treatment. Our abstinence-based treatment program takes an innovative approach to addiction treatment. Our program implements adventure therapy, art therapy, fitness therapy, and yoga therapy for our patients to obtain holistic healing. Holistic treatment focuses on completely healing the mind, body, and spirit.
At Rock Recovery, our veterans and first responders addiction treatment program consists of our Partial Hospitalization Program (PHP), Intensive Outpatient Program (IOP), or Outpatient Program (OP). Partial hospitalization and intensive outpatient programs are recommended for newly sober patients seeking care on a level that authorizes more flexibility and freedom. PHP and IOP allow patients to maintain outside responsibilities while meeting three to four times weekly for 20 hours of group and individual therapy. The outpatient program (OP) is available for patients with a less severe case of addiction. In outpatient treatment, patients are required to receive six to nine hours of clinical treatment weekly.
Treatment for dual diagnosis plays an essential role in our treatment program for veterans and first responders. Here at Rock Recovery, we hone in on treating the individual as a whole rather than the addiction alone. As long as mental illness and substance abuse coexist, they will continue to fuel each other until fully treated.
Rock Recovery's comprehensive treatment program recognizes the value of our patients feeling safe and cared for throughout their treatment process. We prioritize the health and well-being of our patients first and foremost. To best treat and tend to retired and active-duty service members, we consider their unique histories and experiences with trauma.
Your Insurance May Cover the Cost of Treatment
WORK WITH A WIDE VARIETY OF INSURANCE CARRIERS TO HELP WITH THE FINANCING OF YOUR TREATMENT.
Don't see your insurance provider? View our full list of accepted insurances.