Adventure-Based Therapy Program
Sitting within four walls and going through the same routine in your recovery plan can get dull and tedious. While experiencing your treatment in a structured environment is very important, it's also important to have fun and experience nature. Our team at Rock Recovery Center, a rehab center in South Florida, is dedicated to guiding you through your recovery in a way that works for you.
Our adventure-based therapy program uses several research-proven methods that take advantage of all of what beautiful South Florida has to offer. We are not your average classroom-based treatment experience. Our clients leave our program with an unbreakable knowledge of recovery that lasts!
What is Adventure Therapy?
Adventure Therapy (AT) is an approach to mental health and addiction recovery that utilizes hands-on activities, outside in the natural world. Adventure therapy originated in the 1960s as a combination of community, nature, and exercises. This approach is combined with many other aspects of traditional therapy.
The goal of adventure therapy is to improve social, psychological, and physical well being through the healing power of the outdoors. This is done through recreational activities, wilderness expeditions, and experiential therapy. Through adventure therapy, patients and their families overcome substance use issues, mental health concerns, and behavioral problems.
How Does Adventure Therapy Work?
Adventure therapy lets the environment evoke change by using actions and experience with problem-solving initiatives. It also accomplishes this through trust, cooperative games, and wilderness expeditions. Adventure therapy is generally considered a holistic form of therapy that works in conjunction with traditional, evidence-based therapies.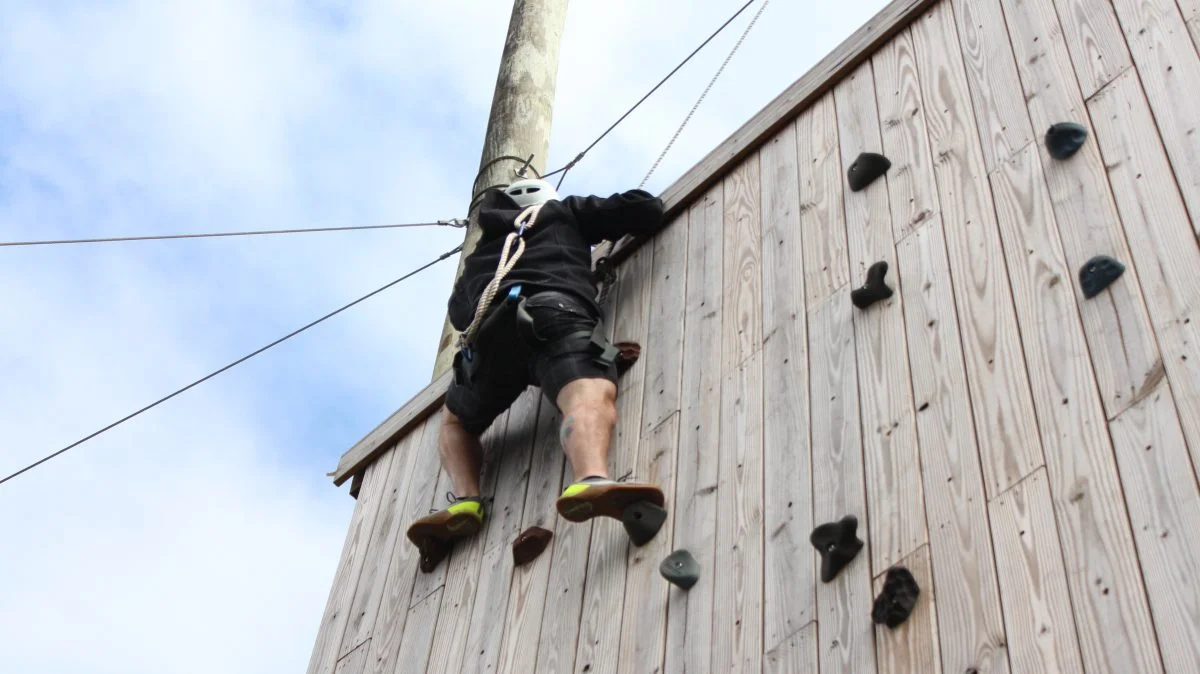 Once you complete an activity, the group gathers and processes it together. During "processing," each person internalizes their experience and relates it to their personal goals.
Activities in adventure therapy include:
Rock climbing
Kayaking
Paddleboarding
White water rafting
Camping
Swimming
Canoeing
Group activities like canoeing and white water rafting encourage patients to work as a team. On the other hand, an individual activity like paddleboarding can teach people to stand on their own and feel free while in control.
Another main goal of adventure therapy is to connect patients' current outdoor activity to their life experiences. Patients also come out of each activity with better social and people skills as well as a renewed sense of confidence. Take rock climbing, for example. As patients learn how to do it, they can ask for help or assert their need to be independent. They can practice this activity in a safe space with a supportive group.
Sometimes when people are isolated in nature, they experience a kind of "spiritual awakening." Their therapists can support this experience by helping the patient set goals and make decisions.
Types of Adventure Therapy
Adventure therapy doesn't only come in one format. There are several types that you can choose from. We're confident you'll find one that fits your needs.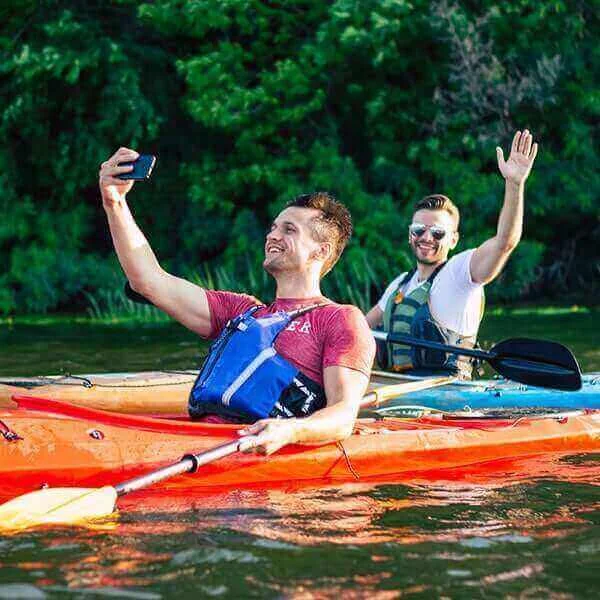 Aquatic Therapy
Also known as pool therapy, aquatic therapy uses water to help patients heal and exercise. This is especially helpful for people with chronic pain, including neurological disorders and arthritis. The buoyancy of the water supports the patient's weight, taking much of it off the joints and benefitting those who are overweight.
Another major benefit of aquatic therapy is the water's warmth, which relaxes the muscles and increases blood flow.
Wilderness Therapy
Wilderness therapy uses the landscape and weather to heal participants. In wilderness therapy, you learn to adapt to your surroundings and also learn endurance, which is different from the physical challenge and emotions of general adventure therapy.
Wilderness therapy is especially effective in young people. It teaches adolescents how to assess a situation, help them develop coping strategies, and come out of it with a more positive attitude and sense of self.
Exercise Therapy
Our Fitness Program offers plenty of exercise therapy. Exercise helps boost serotonin and dopamine, two neurotransmitters that produce feelings of pleasure and happiness. At the same time, it can also lower symptoms of depression and anxiety. Doing yoga outside, running, or jogging are all effective examples of exercise therapy.
Exercise therapy can also help you stick to a routine while in recovery. Having structure in your life will make you less vulnerable to triggers and ultimately relapse.
The History of Experiential Learning
In the early 1900s, a man named John Dewey believed that experiential education leads to a better understanding of the world and improves your ability to learn. The basics of experiential learning means you have free will: you have a choice and personal responsibility for learning.
Dewey's thoughts are still foundational for many learning principles today, including other forms of psychological treatments.
In experiential education, you are encouraged to:
Ask Questions
Investigate for Yourself
Solve Problems
Find Meaning
Taking Responsibility
Reflect
This includes many other positive, self-worth building activities.
Experiential Adventure Therapy
Ongoing research shows the healing qualities of being in a natural environment, like the beach, the woods, a park, and more. Even something as simple as caring for animals can be soothing for people who suffer from certain disorders. At Rock Recovery Center, we utilize experiential adventure therapy to help you learn about yourself, and the world around you.
Just some of the benefits from activities involved in experiential adventure therapy include building self-esteem and learning life skills, such as:
Teamwork
Problem-Solving
Communication
Respect for Nature
Respecting Your Mind & Body
Physical Endurance & Health
As with our other therapeutic modalities, experiential adventure therapy provides clients with the opportunity to process new concepts about living in sobriety as well as develop a vocabulary for and builds a new physical memory of pleasure through activities that are healthy.
Relapse Prevention is a Part of Adventure Therapy
Those who are suffering from drug or alcohol addiction usually are not able to handle stress in a healthy way. When addiction takes over, the ability to think through emotions, anticipate a consequence, and take responsibility for their action falls away.
These abilities need to be relearned. Experiential adventure therapy helps addicts and alcoholics regain their ability to meet the challenges in their lives. You will be able to use physical activities in our program as a means of relieving stress and triggers that spark the thought of relapse.
At Rock Recovery, we believe that when you fill your time with an activity like adventure therapy, you're less likely to relapse. Exercise therapy, wilderness therapy, and aquatic therapy can all provide healthy distractions for people suffering from addiction.
Environmental, emotional, and physical triggers can all lead to relapse. Moving your body and doing things that make you feel good can help you avoid these triggers.
Benefits of Adventure Therapy
Participating in adventure therapy provides many benefits for people with different mental health disorders, including schizophrenia and anxiety. It's also proved to be a powerful tool in treating people with symptoms of post-traumatic stress disorder (PTSD) and substance use disorder.
It can also be a productive and exciting part of relationship or family therapy. It seems to be most helpful in teenagers, adolescents, and young adults, especially those with mental illness.
Other benefits of adventure therapy include:
Improving self-awareness and self-confidence
Promoting further engagement with a therapist
Increased resilience
Improving emotional/behavioral functioning and self-esteem
Encouraging emotional discovery and openness
Teaching stress management and healthy coping skills
Patients have also cited the value of hands-on problem-solving in adventure therapy. Through problem-solving, they can face their fears, including negative thoughts that can lead to addiction.
How Can Adventure Therapy Help You Recover From Addiction?
Without the association of everyday stressors and city life, people can thrive in adventure therapy. When they participate in exciting activities, patients come out of them energized and refreshed and have a renewed self-honesty. As a result, they're more likely to keep doing positive activities rather than return to using drugs.
Adventure therapy can be especially useful for people with an addiction and a co-occurring mental health disorder. This form of therapy is also excellent in teaching resilience. When we're out in the world, we have to learn to use what we have to survive. Adventure therapy helps you throw your insecurities and anxieties out the window and learn to be disciplined. This is a key ingredient to staying sober.
Addiction Treatment Customized For You and Your Needs
If you or someone you know is suffering from substance abuse, depression, or anxiety, our full-service rehab center in South Florida can help. We offer several types of treatment for our patients.
While many treatment centers offer medication-assisted treatment, we promote an abstinence-based approach. Instead of teaching patients to resist temptation, we teach them how to rise above it and live a happier life. When you're doing things that make you happy, you're less likely to relapse. We promote this belief at Rock Recovery.
At Rock Recovery Center, we understand that there isn't a single "cure-all" form of therapy that works on every problem, for every person. Treatment plans should be individualized and regularly updated. For more information about how our team at Rock Recovery Center can guide you through the rehabilitation process, contact us today.
Your Insurance May Cover the Cost of Treatment
WORK WITH A WIDE VARIETY OF INSURANCE CARRIERS TO HELP WITH THE FINANCING OF YOUR TREATMENT.
Don't see your insurance provider? View our full list of accepted insurances.