A long-time staple of drug and alcohol addiction treatment has been addiction group therapy, allowing patients to improve their communication skills and learn from each other. This method allows treatment specialists to examine how their patients react to other peers, and it's also a great individual therapy supplement. Why exactly is addiction group therapy so effective? Here's the psychology that drives it.
What is Group Therapy?
In addiction group therapy, one or more specialists will lead a group of three to four patients in a guided discussion, with some groups growing as large as 12 patients. The exact timeline of substance addiction treatment varies according to the patient's individual needs, but typical addiction group therapy sessions go on for six months to a year.
There are contrasts to these therapy sessions, with the same group of patients consistently meeting with the same therapist. This helps to build trust within the group. The format will vary and will be controlled with the therapist leading the conversation. Usually, the therapist will highlight a specific topic for the session and give each patient a chance to discuss their conflicts. Some therapists may allow an open discussion format, where others will keep the conversation more focused.
Where is Group Therapy Practiced?
Group therapy is commonly practiced in private clinics, hospitals, mental health clinics, and community centers. Sometimes addiction group therapy is used on its own, but normally it is part of a comprehensive addiction plan. Often, addiction group therapy is the main therapy form used in rehab.
Different Formats of Group Therapy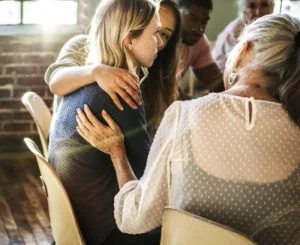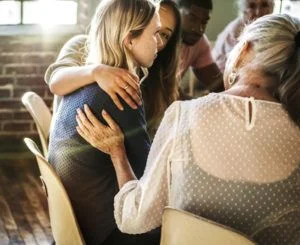 Group therapy is a term for several kinds of group counseling. Some subsets of group therapy include:
Peer group counseling: Usually, the group members are all strangers. The group will generally focus on topics that link all members, like alcohol or substance abuse, anxiety, depression, or loss.
Family therapy: This psychotherapy form helps families improve their communication while resolving issues. Usually, family therapy is led by a psychologist, social worker, or accredited therapist. The particular goals will depend on what the family needs help repairing. Family therapy isn't long-term therapy, and it is more aimed at helping the family learn communication and repair relationships. Family therapy is crucial during rehab, especially in the early stages.
Marriage or couples counseling: This therapy form requires the therapist to treat spouses or partners in a romantic relationship. It helps with decisions like if they want to resolve specific disputes or end the relationship respectfully. Repeat, this is only a short-term therapy. Both partners will benefit, but it's highly recommended that each partner attend individual therapy to manage personal issues.
During all addiction group therapy sessions, a counselor will notice your body language and visual cues. They'll examine how you interact with other members because group dynamics usually mimic how people are in the real world.
Benefits of Group Therapy
Some benefits of addiction group therapy include:
Ending Isolation
Substance addiction recovery can feel lonely and make you feel isolated and alienated at times. During addiction group therapy, you connect with peers who share similar experiences to yours. This allows each member to share their feelings and thoughts with others who can relate. Patients usually find they have more in common with other peers than previously believed.
Growing a Safety Net
Confidence grows in addiction group therapy when you meet with people who share the same experiences as you at each session. Group members can communicate any run-ins or negative encounters with addiction triggers. Reporting this back to your support system will boost a feeling of belonging and security.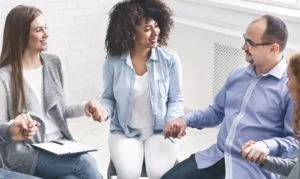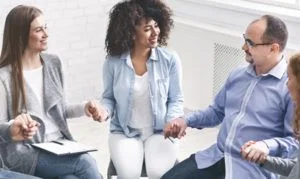 Finding Your Voice
During addiction group therapy, members become more aware of feelings and find the strength to discuss them with others. Your therapist will even encourage you to voice your feelings until you find your confidence.
Giving and Receiving Support
During addiction group therapy sessions, you'll receive support from your counselor along with giving support to your peers. Everyone shares with the whole group, rather than obtaining individual therapy one with one the therapist. They'll discuss overcoming loneliness, avoiding triggers, and finding support when it was most needed.
Healthily Relating to Yourself and Others
Addiction group therapy helps you recognize you associate with others instantly. By observing interaction with peers from the group, you'll realize how you interact with loved ones daily. This helps addiction group therapy to help you improve relationships.
Addiction group therapy will likely become a significant element of your overall addiction recovery plan. It's a key component in ensuring a full recovery.
Creating A Recovery Plan
A substance addiction recovery plan will include more than support groups and addiction group therapy. The recovery plan must be customized for each patient to ensure a complete recovery.
A typical substance addiction treatment program will likely include:
Detox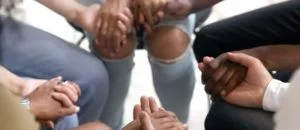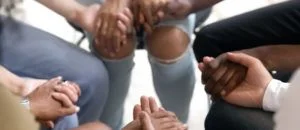 The first part of admitting the patient to a traditional rehab program ensures they have a safe detox. When someone suddenly quits drugs or alcohol consumption, the withdrawal symptoms can be so severe they drive them right back to using. Staff can administer medications to mitigate the symptoms. Detox is crucial to give the patient the best chance of a successful recovery. Once the toxic substances are flushed from the body and withdrawal symptoms are contained, the patient can focus on recovery.
At Rock Recovery, we use more holistic forms of treatment that don't include medical detox.
Many mental health disorders like anxiety and depression commonly co-occur with substance abuse. When faced with this situation, it's crucial to treat these disorders simultaneously to ensure a successful recovery. Confirm the treatment center you decide on can administer dual diagnosis treatment if needed.
Education
It's crucial to recognize the effects of substance abuse on your body and overall health and well being. Many rehab programs additionally provide training preventing relapse and steps to take if it does happen. 
Testing
Drug testing is traditional in all rehab centers. They are given regularly to ensure patients are keeping up with their commitment and not disrupting others' recovery.
Treatment Adjustment
Medications and needs will change as you progress during the rehab program. Counselors and specialists will monitor each patient and make changes to suit the immediate needs.
Reasons to Attend Addiction Group Therapy
Some other benefits of addiction group therapy include communication, insight, companionship, and accountability. 
Communication
Communication is such a vital component of rehab because most people with substance addiction usually have little to no people to discuss their issues with. This indicates they also don't have a healthy place to work out their frustrations or discuss ideas. One crucial life tool members can learn in addiction group therapy programs is communication. 
It's astonishing how regularly people figure out solutions to their problems solely by discussing them with others willing to listen. Audiences can also benefit because the speaker is dealing with similar situations, obstacles, and outcomes.
Insight
Insight into addiction group therapy refers to the introduction of others' ideas. Sometimes, we become too close to our problems to solve them, and others' perspectives can help us view things differently. People working to overcome addiction in group therapy can contribute advice without being judgmental. Mainly because in these groups, everybody can relate to where the speaker is coming from.
Companionship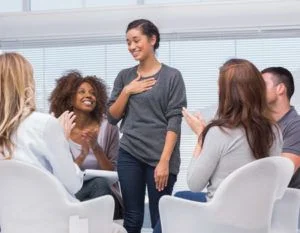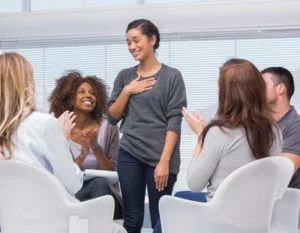 Companionship is also especially beneficial for those who are struggling with substance addiction. Loneliness is usually coupled with substance addiction and recovery. Therefore, living a sober lifestyle requires separating ties with previous substance-abusing friends. Loneliness can often lead to self-medicating to cure the feeling, which eventually leads to dependence. With peers to interact at addiction group therapy, members quickly develop supportive and positive relationships.
Accountability
Accountability is also a crucial component of group therapy. This helps you practice life changes or achieve goals. The strength provided by supportive peers makes us more powerful in whichever direction we're being supported. By developing relationships with peers who also want to overcome their addiction, group members become responsible for each other. This makes it extremely difficult to relapse because of the promise that was made amongst the group.
What to Expect During Addiction Group Therapy
The exact structure of the addiction group meetings will vary depending on who leads the group and where they're held. Usually, the addiction group therapy meetings start with introductions where members say their names. Group members can discuss how addiction has affected their lives and what caused their struggles.
Fresh group members can learn more about their new peers as they attend meetings. They'll be educated on how addiction impacts others and what issues lead to them. Sometimes, groups will bring in a speaker to discuss special topics or provide insight into addiction recovery's specific hurdles.
Addiction Group Therapy at Rock Recovery Center
Addiction group therapy is a crucial component of a comprehensive treatment plan and is utilized daily here at Rock Recovery Center. Our treatment staff can help you or your loved one get over addiction in a safe, comfortable environment. You do not have to face this alone; contact us today at Rock Recovery Center for a free consultation.