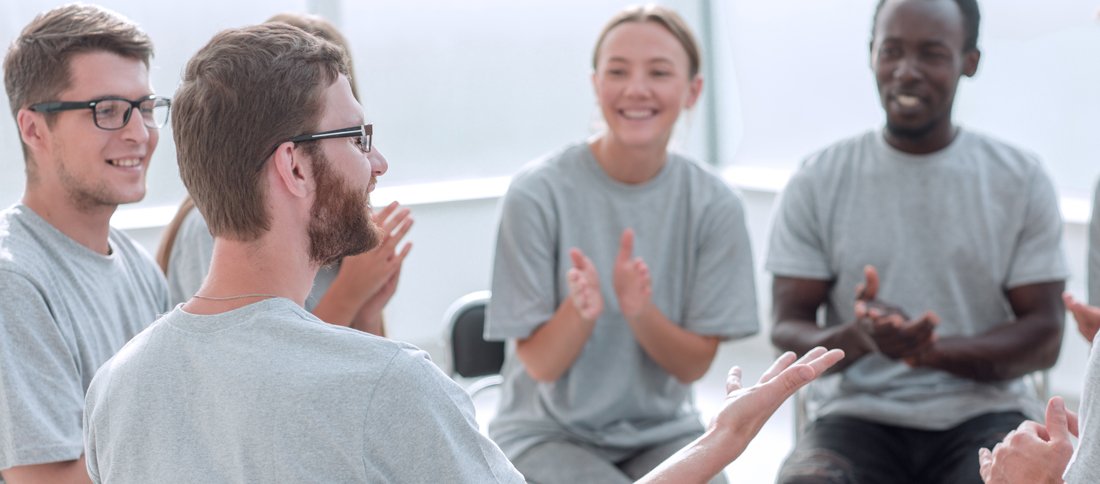 Rapid opiate detox centers may claim to be a quick and easy way to recover from addiction. Fast opiate detox sounds appealing, but industry professionals believe recovery is a process that should not be expedited. Detox is one step in the recovery process. A successful detox sets the foundation for recovery but is just the beginning. For long-term recovery, it is essential to understand each level of care involved in successful treatment.
What is Rapid Detox?
Detoxification refers to the process of ridding the body of toxins. Detox can be done at home but has a larger chance of a positive outcome at a treatment center or rapid detox clinic. Most people use detox programs as a first step into treatment. The detoxification process ensures the individual will start treatment with a sober body and mind.
Rapid detoxification centers use a different method than standard detox. A rapid detox is a 48-hour process where patients within the program receive sedative medication to mitigate the uncomfortable side effects of withdrawal. Rapid detox from opiates and other substances is proven to have high success rates. This process may provide a more comfortable detox with less severe withdrawal symptoms.
Other than the success rate, rapid detox clinics claim a quicker result, appealing to many since that means less time spent in a treatment center.
Rapid Detox Compared to Traditional Detox
There are reports of people who tried traditional detox several times before finding success through rapid detox. Addiction and detox are generally a different process for each individual. Rapid detox from opiates is a new method and continues being studied. Rapid detox is believed to be more comfortable than traditional detox. Some believe that alone makes rapid detox superior. Reports allege that patients at rapid detoxification centers feel little to no withdrawal symptoms during the process.
Another study reported that the two forms of detox did not offer differing withdrawal symptoms. In the study, patients awoke from their sedation to find their withdrawal symptoms were still moderate and uncomfortable.
Fast Opiate Detox: Is It a Standalone Treatment?
Several organizations, including the NIDA (National Institute on Drug Abuse), have debunked myths involving rapid detox. Rapid detox is not a standalone treatment. Data from a study showed that following a rapid detox program, most patients did not seek continued treatment. In this instance, continued care refers to inpatient, outpatient, or aftercare treatment. The mentioned treatments are standard methods of care used after a successful detox.
The study showed that 91% of patients who participated in a rapid detox program without continued care ended up relapsing. More than half of those individuals relapsed within one week. Several studies suggest flaws surrounding rapid detox. The addiction recovery process cannot be condensed.
Are Rapid Detox Clinics Safe?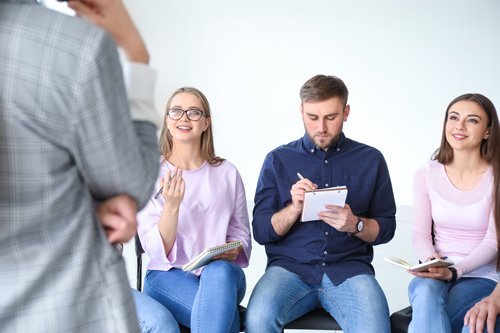 It is unfair to speak for every fast opiate detox program. Each program differs, whether it be safety procedures or other protocols. Patients have found long-term success from rapid detox programs. The main factor when it comes to rapid detox is the individual and the program itself. Not every treatment center offers equal care.
Most studies express that rapid detox programs do not handle withdrawal as it was once claimed. Therefore, it may not be the best or safest route to recovery. Many of the mentioned studies showed that most individuals that complete rapid detox programs still suffer from intense withdrawal symptoms.
The safest way to detox is with professionals in a controlled environment. Detoxing alone is extremely dangerous and potentially fatal. USA Today covered an unfortunate scenario involving six treatment-related deaths in a rapid detox clinic over seven years.
Treatment: The Right Way
Industry professionals agree that detox is just the first stage of treatment, not the whole treatment. Programs claiming their detox program is a single-step recovery process is not only dangerous but inherently flawed. When dealing with addiction, the best route to recovery is a proper, well-thought-out recovery plan.
Levels of Care
Treatment facilities offer several levels of care that cater to each person's situation. Levels of care generally treat individuals with mild to severe addiction issues. Most treatment plans begin with a detox, then progress into a form of live-in treatment. Recovery is a lifelong process, and building a strong foundation is essential. At Rock Recovery, we offer abstinence-based programs that heal the whole person while encouraging our clients to participate in the many components of our rehabilitation programs.
Traditional Rehab Program
Our traditional program includes relapse prevention, life skills training, addiction education, and more. This live-in style of treatment provides our clients with the support they need to build a healthy lifestyle. Qualified medical staff, licensed and educated therapists, and teams experienced in the therapeutic process guide our clients every step of the way through recovery. Within our traditional program, we offer several activities and amenities designed to help our clients maintain and sustain a long term recovery:
Individual therapy
Group therapy
Family sessions
Psychiatric care
Medical care
Sober living
Weekly drug screening
Aftercare plans
Case management services
Employment coaching
Organized transportation (AA meetings and the fitness center)
Outpatient Treatment
Many people use outpatient programs as a continued level of care after inpatient treatment. Outpatient treatment is also useful for people who need to continue living at home to take care of certain responsibilities. Outpatient rehabilitation is a great way to get treatment during the day while being free to return home at night. This method of treatment doesn't work well for people who require around-the-clock support. Outpatient programs are typically good for people with mild addiction issues.
An outpatient program is more flexible and less restrictive than residential programs. The treatment often ranges from six to nine hours a week. Resources of inpatient treatment are still available for those in outpatient. You will still have access to individualized therapy, drug abuse education, support groups, and other treatment options.
Benefits of an Outpatient Program
Flexible schedule, able to follow a preferred pace

Flexibility for those with home responsibilities, children, or family members to take care of
Cost-efficient, more affordable since clients still live at home
Same quality treatment as residential
Support from loved ones, instead of being away from family during treatment
Can remain employed (part-time or even full-time)
Intensive Outpatient Program (IOP)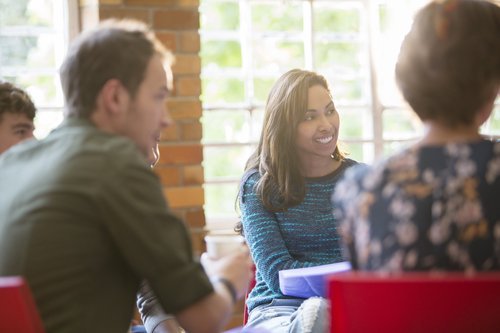 IOPs act as a middle ground between outpatient and inpatient treatment. IOPs have similar benefits as outpatient, such as being able to stay focused on outside activities. Patients can carry on the responsibilities of their everyday life while committing to treatment. IOPs help patients establish tools that will help them fight triggers and relapse. At Rock Recovery, our program works in phases. IOPs work well for those newly sober. Intensive outpatient typically requires anywhere from nine to 29 hours of group or individual therapy each week while participating in the 12-step program.
Clients in Rock Recovery's IOP program meet three to four times a week on average. As mentioned, both individual and group therapy are core methods used in our IOP.
Individual Therapy
Individual therapy is a vital component of addiction recovery. These programs allow patients to work one-on-one with an experienced substance abuse therapist. Therapists guide their patients through emotions, challenges, and other aspects of their life that may trigger their addiction. IOPs generally require patients in the early stages of recovery to participate in individual therapy one or more times a week. Through this, patients build a trusted and honest relationship with their counselor. Benefits of individual therapy include:
Facilitating lifestyle changes: Gaining perspective on healthy and unhealthy behavior and cognitive approaches
Building a support network: Therapists are an outlet for patients to fully and honestly express themselves
Learning how to handle emotions: Therapists guide patients through their emotions and help them cope in the healthiest way possible
Identifying causes of triggers and symptoms
Providing coping strategies
Gaining self-confidence and an overall understanding of the self
Managing symptoms of mental health issues
Group Therapy
Group therapy is a core method used in IOPs and other levels of treatment. In conjunction with individual therapy, patients learn interpersonal skills, coping methods, and healthy cognitive function. Group therapy sessions involve an experienced therapist and a group of two or more individuals. These sessions help people build interpersonal skills in a real-world group environment.
Partial Hospitalization Program (PHP)
After a successful detox, most of our clients join inpatient treatment. After the completion of inpatient treatment, it is often necessary to continue care. PHPs are another useful way to get continued support and treatment. After inpatient treatment, PHPs are an excellent option to continue a more intensive level of care.
Our PHP also includes treatment for patients with a dual diagnosis. Dual diagnosis refers to two conditions co-occurring in an individual. These conditions often involve addiction and other mental health issues such as OCD, depression, anxiety, bipolar disorder, schizophrenia, and more. Patients with co-occurring disorders require specialized treatment, and at Rock Recovery, we offer proven methods to help our clients work through their issues.
Those in a PHP can expect to participate in:
Group therapy and other addiction education support group sessions
Individualized therapy sessions with a substance abuse counselor
Wellness therapies, including several fitness programs
Family-style meals and other activities that promote relationship building, peer support, and interpersonal skills
Addiction education sessions in classrooms with rehab coordinators
Rock Recovery is Here for You
Rock Recovery is here for your treatment needs. Rapid detoxification centers may make claims regarding a one-stop, easy recovery. We understand the recovery process and want to ensure you get the proper treatment you need to have a fulfilling and healthy life. The recovery process is not something that can be shortened or cheated. We offer several options for treatment to cater to most people's situations. If you or a loved one have any questions regarding treatment, please call us today.